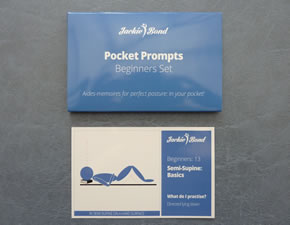 Pocket Prompts
Would you like to easily remember what you covered in your Alexander lessons when you get home?
Would you like to have a clear, concise and easily followed reminder of what to practise between your lessons so that you can progress more quickly?
Pocket Prompts are the answer - Aides-memoires for perfect posture: In your pocket!!
I have designed a unique set of  'aide-memoire' cards, in a bespoke wallet which fit neatly into a jacket pocket or can be carried easily in a small handbag. On the front of the cards are visual images of 'what is to be practised' and on the back the information is set out in two 'bite-size' sections: 'What did I learn' and 'Check List'. The figures enhance and clarify the written instructions.
This 'Beginners Set' covers approximately 3 months of weekly lessons. The cost is £10.00 per set, plus £1.50 p&p. If you wish to purchase 2 or more sets (at a 10% discount) please contact me.