Alexander Technique
What is it?
The Alexander Technique is a method of re-learning how to use your body in the most efficient and stress free way. This learning takes the form of lessons, which are normally given on a one-to-one basis. They involve a combination of verbal instruction and hands-on guidance from the teacher in a variety of different activities, such as standing, sitting, walking and bending.
You will learn how to avoid using excessive tension to move with ease and efficiency, thereby preventing harmful postural habits that may be affecting your work, hobbies and other daily activities. The benefits are many and include:
Improvement in posture, breathing and overall well-being
Improvement in running, riding, playing a musical instrument
Increase in confidence
Reduction in muscle stiffness and joint pain
Reduction in stress, anxiety and performance/exam nerves
The number of lessons a person will need varies, but a minimum of at least 12 on a regular basis is recommended. The Technique is suitable for all ages and all levels of fitness.
Who was F.M.Alexander?
Frederick Matthias Alexander (1869-1955) was an Australian actor who developed the Technique as a result of solving his own recurrent hoarseness when performing. In the early 1900's he brought his work to London and taught many eminent people including George Bernard Shaw, Aldous Huxley and Nobel Prize winner Sir Charles Sherrington.
Today, John Cleese, Victoria Beckham, Hilary Swank and Linford Christie are amongst the famous names that have benefited from learning the Alexander Technique.
In 2008 a highly acclaimed study, funded by the Medical Research Council and the NHS, showed that the Alexander Technique has significant, long-term benefits for lower back pain and it is now increasingly recommended by doctors.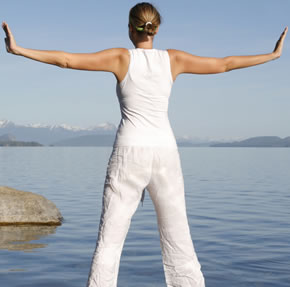 "You can't do something you don't know if you keep on doing what you do know"